bullseye!
at long last i have another knitting post! i have been remiss for ages, i know. there were finals and life was busy. but believe you me gentle readers, nary a day went by where i didn't pick up the old needles. the problem is i was working on two ginormous projects simultaneously. my supersecret project that i cannot post here, and this one: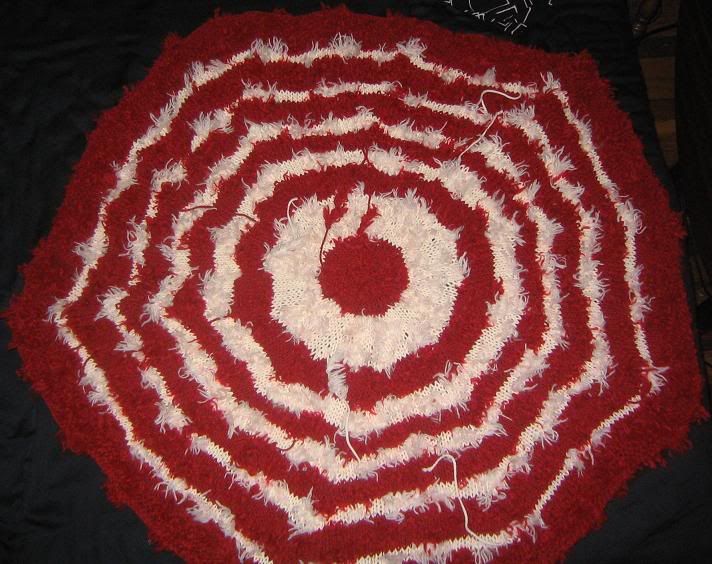 i loves her so! i took the pattern for a
round baby blanket
and modified it slightly. that is, where it says to YO, i knit into the front and back of the stitch. this kept the overall form of the blanket exactly the same, but didn't make those decorative pinwheelie holes. the total size is about 4 or 5 feet in diameter. an odd size, but a nice lap blanket. i still need to work in the ends, but i thought you kids deserved a new post.
and now, the skinny. i found some
voodoo yarn
at a dollar store, so i picked up a ton and decided to make a fuzzy blanket. this is that blanket. i started out knitting on double points size 10 1/2, and moved to size 11 circs when i ran out of space. this project is a perfect excuse to pick up that
interchangeable needle set
that you've been dying to get. the yarn calls for size 13 needles, but i wanted a tighter knit. in retrospect i should've used 13s, but the blanket is still pretty awesome.
the stripes are done using numbers of skeins as a guideline instead of numbers of rows. with 60yd skeins, this is way easier than dealing with millions of ends. the pattern is:
10 rows red, 10 rows white
1 skein red, 1 skein white (+ remainder of first)
2 skeins red, 1 skein white
3 skeins red, 1 skein white
4 skeins red, 1 skein white
5 skeins red (last 10 rows are in garter stitch to prevent curling)
if you are going to make this, it's way fun. the one thing to keep in mind is that when knitting out from the center of a circle, it takes way longer with each row. by the time i reached the end an entire skein went around the diameter only one and a half times.