i'm a loser baby
i lost my camera. this makes me sad for several reasons. i mean, yeah, my elph was
a relic from a bygone era
. with it's
paltry 3.2 megapixels
and hulking 3.4"x2.2"x1.1" design. but we'd had some good times. and now she's gone. an offering to the
hogs and heifers
gods. well, we had a good run of it.
what has any of this got to do with knitting, you may ask.
nothing.
however, it has everything to do with blogging. i cannot post new digital pictures of the hats, gloves, and shoes...er...socks without a bit of electronic assistance. i plan to rectify this in the very near future.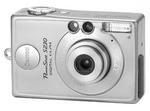 *sniffle*