nice sweater
so a friend of mine made an interesting request for knitwear. she wanted wristwarmers (*yawn*) that were the length of opera gloves (*!*). that sounded like great fun. i figured something of this size would need to be somewhat fitted to the recipient. and as the recipient was of pixie height, measurements would be in order. so she flitted about her office looking for a tape measure or string. unfortunately i can only imaging this event, as i was not there. but i am fairly certain it would have been hysterical.
so measurements were taken and recorded. i used worsted weight wool on size 7 needles and knit from the fingers up. for the thumbs i cast on an additional 6 st, which made them a bit wider. this was then tapered back in towards the wrist, and slowly widened up the arm. increases were all made along the thumbline, and there was a simple cable every 8 rows to try to hide them. I wanted to make the part that would show from under a coat all black, so that the stripey excitement was only apparently when the coat was removed. at the very top of the gloves, the last 8 rows were knit back and forth in seed stitch, to make a non-ribbed top and a "v" on the side to make them a bit easier to put on. and here, the results!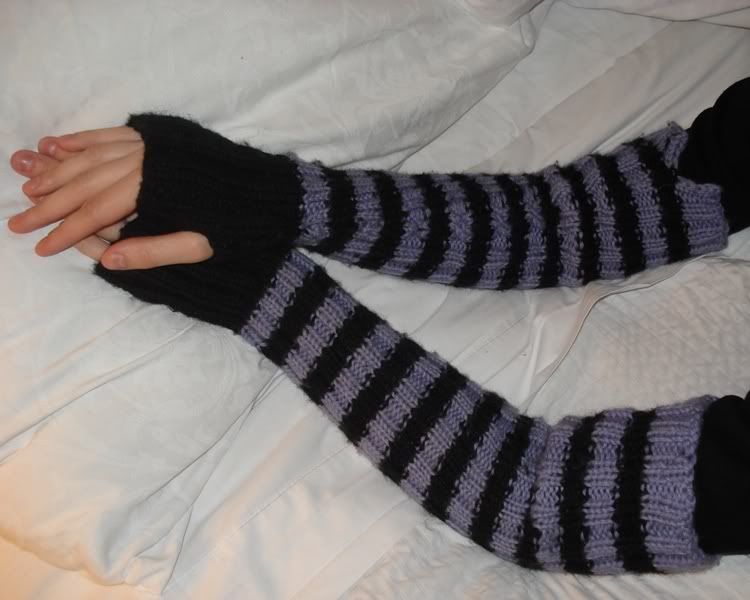 what about the title, you ask? well, the lovely lady sporting the warmers was wearing them to get her hair did one day. the gentleman doing so complimented her sweater. "oh, it's not a sweater. they're wristwarmers." she replied. and then removed her jacket. to the apparent awe of the gentleman cutter. excellent.