knitwork in orange
i had jury duty recently. and i decided that i was perfectly comfortable with the role of "that guy who is knitting". and so it was. this is a project from said labor.
this scarf was knit using cheap acrylic yarn on size 10 needles. i used a big honkin' skein, and that was enough for the whole project. the pattern is k2 p2 k2 p2 k2 p2 k4 p2 k2 p2 k2 p2 k2 i cabled the knits in orange every 4th row, and the ones in brown every eighth, forming a nice cabley pattern. the added excitement is the pockets at the end!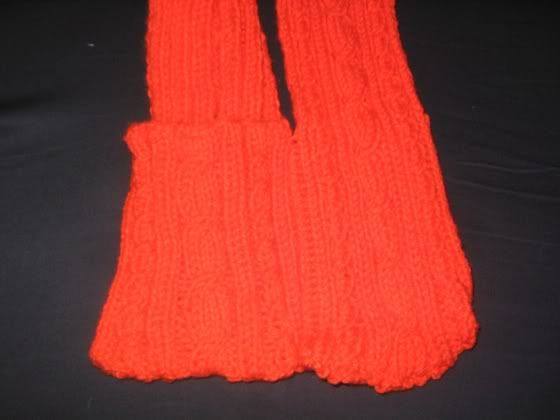 knit 32 rows in pattern in the round (with 28 st on each of two needles; basically two scarves back to back), and then bound off one needle. knit the live stitches for about another five feet. then cast on another 28 st, and repeat the 32 rows in the round. finally bind off both open ends. conceptually, this is two small hats with a scarf in the middle. i think it's pretty awesome.